Bicycle Friendly University – GOLD!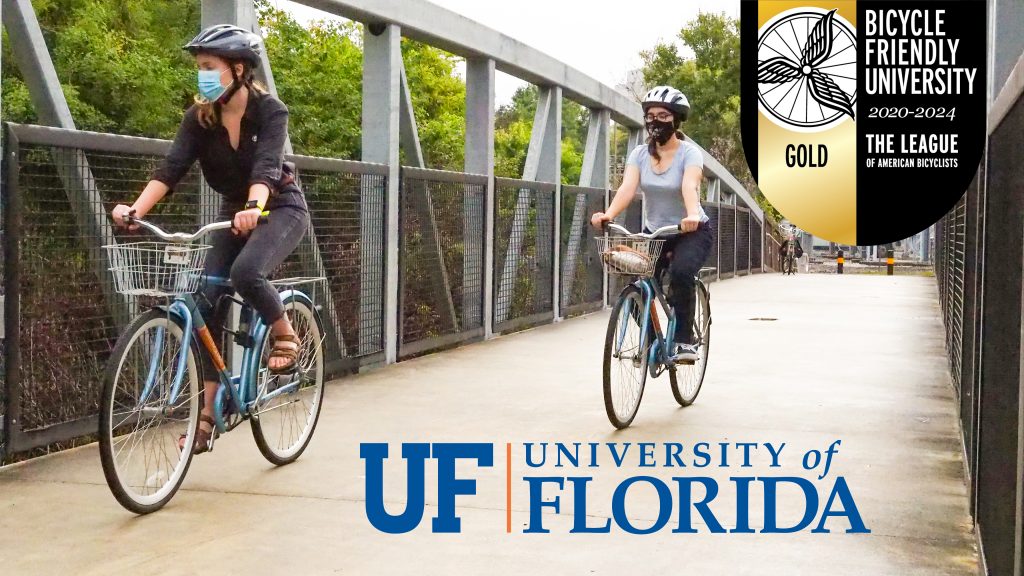 The League of American Bicyclists, the premier grassroots advocacy organization encouraging better bicycling and protecting the rights of people who bike, has honored the University of Florida (UF) with a gold-level Bicycle Friendly University award in recognition of the institution's achievements in promoting and enabling safe, accessible bicycling on campus. UF held a silver award prior to the hiring of Jacob Adams, the UF Campus Bicycle Program Coordinator for Transportation and Parking Services and the Office of Sustainability, who has been instrumental in creating a gold-level bicycle friendly campus.
"It is so energizing to have UF among our cohort of 212 Bicycle Friendly Universities across the country," said Bill Nesper, executive director of the League of American Bicyclists. "The 2020 class of 38 Bicycle Friendly Universities, which includes UF, has had to address a crisis unlike any we've seen in our lifetimes. Amidst the pandemic, we are grateful each of these institutions has acknowledged the benefits to the well-being and health of its students, staff, and faculty in being a Bicycle Friendly University. These colleges and universities are leading by building healthy environments where people can safely get around while improving the well-being of their community by enabling access to sustainable transportation options."
The Bicycle Friendly University program now includes 212 colleges and universities in 47 states and the District of Columbia, and is part of the League's Bicycle Friendly America program, which also awards communities and businesses with certifications as part of its mission to create a Bicycle Friendly America for everyone.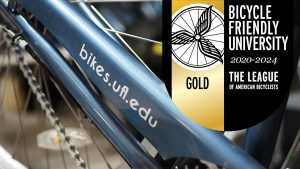 "The applications from colleges and universities in 2020 demonstrate the myriad challenges educational institutions have and are overcoming in order to serve the needs of their students and employees," said the League's Bicycle Friendly America Director, Amelia Neptune. "What's clear is that bicycling is part of the solution many colleges and universities are using to better the campus life of their communities. The League is so proud of institutions like UF for continuing this important work of building a Bicycle Friendly America for everyone at such a critical time for the health of our population and our planet."
---
Ready to find out what makes UF a Bicycle Friendly University? Check out everything we have planned for Campus Bike Month in March!